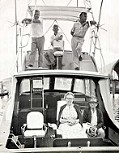 Building a legacy, like building a boat, is a long process when done right. Hard work and an unrelenting commitment make up about half of what is required. The other 50% is just plain luck, or as Johnny once said, "We were in the right place at the right time and with a good idea and a few simple tools we could make something useful". My father, Emil, being a bit more colorful, used to say it was just bull---- luck. The fact that one family created an entire industry 60 years ago and whose products are still the industry standard today seems to beg for a more flattering explanation. Alas, the Rybovich product has always spoken for itself in performance and quality. There has never been much need for embellishment.

If building a legacy is akin to building a boat, maintaining a reputation as renowned as Rybovich's is like maintaining that boat. To keep the boat tuned and polished requires great care and attention to detail. Without it she'll quickly fall into disrepair. Since the sale of the yard in 1975, Rybovich has been through four defining changes in ownership. As with any company, things inevitably change when a new owner assumes control. Taking the reins of a business with a reputation for uncompromising quality and customer satisfaction is an honor and a privilege. It is also a daunting responsibility. Some folks rise to the challenge. Others are intimidated by the magnitude of hard work and lose interest. The fact that Rybovich has survived for almost 45 years after the death of Tommy is a testament to the strength of the name and the passion associated with it. Johnny, Tommy, and Emil developed their respected aesthetic and performance standards by making subtle changes from one hull to the next, being ever mindful of their customer's requests for better fishing boats. We continue to subscribe to the same philosophy: listen, think, and create. We are here to build a better boat. It's as simple as that.

In the summer of 1984, after having survived new ownership at the yard for nine years, I left Rybovich and started a new boat building venture with my father Emil, and my brother Marty Evans. I was young, single, and independent enough to be able to walk away. Dad had been out of the yard for four years, doing consulting work and marine surveying and he was anxious to get back to the creative side of the business. Marty had been in residential construction for many years and had both the talent and creative genes for boat building along with a yearning to take his abilities in a new direction. We partnered with close family friend, Ed Bussey, and formed Rybovich International in the fall of 1984. I built several models to test a few new ideas that Dad and I had been discussing about how to achieve a better ride at higher speeds while still maintaining the stable fishing platform.

Together with our former yard mechanic, Curt Wills, and Gary Hilliard (who would later return to Rybovich to build boats for two successive yard owners), we set up the first hull for Charlie Bouchard, an avid tuna and sailfisherman who wanted a boat he could fish himself. That first hull with the new company, a 32' walk-around design, was based on a concept that friend and legendary angler Nick Smith had applied to a 30' Daytona hull. She was powered with a single 3208 CAT, and with the new bottom she could fish in rough water alongside boats twice her size and never miss a lick. I have often wished that I could have bottled the excitement of that first sea trial to spray on myself from time to time when things get complicated. We talked of producing a mold from the first hull and venturing into semi-production but the orders for new boats kept us busy and we were never really in a position to afford the tooling costs.

Each new order produced a larger boat than its predecessor. By the mid 1990s we were building a 60' sport fisherman under the name RYCO MARINE and had outgrown our little shop. We eventually moved back to the waterfront in 2001 and added a service business to our boatbuilding operation. Things were going well until Hurricane Wilma destroyed our building in 2005 but miraculously spared the three hulls we had under construction at the time. Meanwhile, Florida businessman Wayne Huizenga, Jr. had purchased the original Rybovich yard in 2004 and a year later was in need of a management team to run its boat building division. For our part, we needed a roof over our heads. In late 2005 we merged with his company to form the new Rybovich & Sons, finally bringing the family and the name together again some 30 years after the original sale of the company.

For the next four years the new company flourished, surviving still another move from the yard in West Palm Beach to make room for a world-class super yacht marina and repair yard now occupying the original homestead. During this time, at the 20th street site in Riviera Beach, Rybovich & Sons delivered five boats from 54 to 78 feet, the last two being the largest ever built under the family name. New challenges for the company became apparent in late 2008. As the world recession deepened, the once full order book became an empty testament to the bad economy. In the early 2010, management was forced to make several difficult decisions, including shelving new construction altogether to focus on the development of a full-service marina at the Riviera Beach site. Facing the end of the creative process with Rybovich & Sons, I was forced to re-think the partnership and after much prayer and lively debate, made the decision to leave the company and to proceed on my own with a new company, Michael Rybovich and Sons.

The construction techniques at Rybovich today are similar to those used in the later years of Tommy's career. Although we have experimented with building in composites and will continue to do so, we still enjoy the creative freedom and superior strength-to-weight ratio provided by one-off cold molding. As lighter weight materials are introduced in the industry, we continue to incorporate them into various areas of our boats. In doing so, we believe we are combining the best that modern material technology has to offer with the soul and pride associated with something handmade. As available horsepower has steadily increased, the speeds and respective stresses on the hulls have also increased proportionately. In accommodating these changes, our hullform has evolved into something quite unique to the industry and in which we take great pride. Even in a typical January head sea, today's Rybovich boats deliver a dry ride of astonishing smoothness which provokes wide smiles on the faces of the crews that run them.
"We continue to subscribe to the same philosophy—listen, think, and create.
We are here to build a better boat. It's as simple as that."

As the coastal Atlantic fisheries decline, sportsmen have become accustomed to traveling further from home in search of gamefish. This requires more fuel and fresh water capacity, better accommodations, and more storage. It should also be noted that as most sportsmen of the past wanted to go fishing to get away from it all, today's sportsman wants to take it all with him. Air conditioning, large capacity refrigeration, laundry facilities, the latest in a/v equipment and home theater, internet service, onboard desalination, scuba gear, and much more are all a part of the requirement for more interior volume. In other words, bigger boats.

The average length for a Rybovich in the 1950s was around 40'. In the 1960s that number would increase to 50'. When the second Little Pete was launched for Paul Leviton in 1973 at 58 feet, we all thought that was about as big as you could get and still legitimately fish the boat. The average size of today's custom sport fisherman is around 70' and still increasing. Amazingly enough, anglers and crews have adapted easily to the complexity of larger boats. With more power from new engine technology, they've had little problem maneuvering on a fish, just as they would from a 43-foot boat of four decades ago. It remains to be seen how far this trend will go, but the bar is being raised on a daily basis.

At the new Michael Rybovich & Sons, we have been blessed with a crew of excellent craftsmen who produce the fine work that continues to provide our customers with the pride of ownership associated with the Rybovich name since Miss Chevy II was launched in 1947. It now appears as if the next generation will take its turn defending the Rybovich name. My son, Dusty, a graduate from Webb Institute for Naval Architecture and Marine Engineering in New York, is the first of all the Rybovich offspring to have a formal education in the family business. My stepson Alex Gill has also joined the business as head of the mechanical department. We are extremely proud and expect great things from them. It is a privilege for all of us to be able to create something which, if given proper care, will long outlive us. The three original brothers knew that feeling well, and we couldn't ask for more.