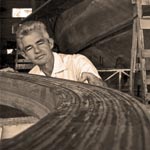 The construction techniques we use today are similar to those used in the later years of Uncle Tommy Rybovich's career. The exterior of our hulls use no plywood and are a cross planked Philippine Mahogany. We still enjoy the creative freedom and superior strength-to-weight ratio provided by one-off cold molding, and choose the finest sub-species of Phillipine Mahogany available.  All hulls are then glassed with cloth and epoxy resin, followed by extensive hand fairing and the best epoxy primers and urethane paints.
1. Stem, Keel and Stringer Lamination in Jig
2. Stringers, Fairing and Planking
3. Planking, Rollover Prep and Shaft Logs
4. Primer, Rollover and Foredeck
5. Foredeck, Deckhouse and Bridge
Get in touch to design yours.